Wednesday afternoon was an eye-opener for me. I went to the HK Heritage Museum in Shatin and there saw various "masterpieces" from the Musée National Picasso, Paris. Although I had previously seen different works of Picasso in Barcelona, Madrid, Paris, London, Boston, New York, Washington and Hong Kong, I don't recall having seen some of the photos taken by or for Picasso (1881-1973), about his associations with other writers, painters, sculptors and his lovers and children and I saw many works I had never seen before. The exhibitions will last from 19th May to 22nd July 2012. We're lucky because it was a wonderful exhibition, housed in two separate halls. collecting under one roof works from different stages of his life which the exhibitors show under the following categories:


1. Genesis (1895-1903).
In this period, Picasso learned the basics of painting and from observing and imitating the painting methods of such Spanish masters as Murillo, Vélasquez, Goya and El Greco. He said: "
The Museum of paintings is beautiful. Velásquez first class; from El Greco some magnificent heads, Murillo does not convince me in every one of his pictures."
He was getting very good at imitating their styles but even then was beginning to show his own style of simplification of lines and unification of colors. The years 1901-1904 were often referred to as his "
Blue Period" because he was then making sombre paintings in shades of blue and blue-green, only occasionally warmed by other colors. He was influenced in this period by his study of African paintings and artwork. In this period he painted many thin mothers and emaciated children and other marginal characters like prostitutes, beggars and blind men and was much influenced by the suicide of his studio flatmate Carlos Casagemas who shot his lover and then himself in Paris. Picasso painted several portraits of his dear friend as an act of commemoration, culminating in the gloomy allegorical painting La Vie (1903). In 1904, he had decided to stay in Paris permanently. This was followed by the so-called "rose period" (1904-06), with a more joyful mood painted in orange and pink about acrobats, clowns or harlequins in checker-pattern tight clothing, beloved by his friend, the poet Guillaume Apollinaire. It was during this period that he met a painter's model Fernande Olivier with whom he fell madly in love and lived together.
2. From Primitivism to Cubism (1906-1915). This is the period when he was much influenced by African paintings and those of Gauguin. This was also when he painted his famous
"Les Demoiselles d'Avignon (1907). It is said that the years 1907-1909 were his African-influenced period
whilst the years 1909–1912 ( when he worked closely with Braque) his "analytical Cubist" period and 1912-1919 his "Synthetic Cubism" period, when he added newspapers, wall paper or cloth cuttings on to his paintings, hoping thereby to introduce more complexity to the way cubist paintings may in its own "distorted" way, "reflect reality".
He is tge co-developer of Cubism with Georges Braque.
3. Classical Period (1915-1925) when he again reverted to painting in a slightly more "realistic" style, adding back some human forms and other figures to his cubist paintings, using more curved lines, not just straight lines.

4. Surrealism period (1924-1932). In the 1930's he began to be influenced by the ideas of the Surrealists, led by André Breton and also the other Spanish painters, like Dali, who thought that the artist should reflect in their work the "dreamlike" realities or images of the human unconscious and that one should allow the unconscious to dictate the form of one's art, with minimal intervention or interference by reason and that one should follow the hints of surging from the unconscious, through some kind of "automatic" movement of the sub-conscious or the depths of the human psyche.

5. War Paintings 1935-1943. This is the period in which he painted his famous "Guernica" in 1937 at the invitation of the Spanish government.

6. The Pop Years
(1946-1972)
when Picasso retraced his steps and studied again the Old Masters and reflected on how certain elements of their paintings might be used in new ways. Thus, in
the 1950s, Picasso's style changed once again, as he took to producing "reinterpretations" of the art of the great masters. He made a series of works based on Vélasquez's paintings of Las Meninas and also some of his paintings on works by Goya, Poussin, Manet, Courbet and Delacroix.
In this spirit, he made at least six "reinterpretations" of Manet's "Dejeuner sur L'herbe". Until he died, he continued to paint and his final works were a mixture of styles and the way he expressed himself were incessantly changing: sometimes realistic, sometimes cubist, sometimes a mix, sometimes influenced by the atmosphere of the Mediterranean and the flowing forms and colors of of Matisse, sometimes not. When he was full of energies, Picasso became more daring, his works more colorful and vibrant. Even in the last few years of his life, from 1968 through 1971 he produced a torrent of paintings and hundreds of copperplate etchings. Such works were dismissed by most as pornographic fantasies of an impotent old man or the slapdash works of an artist past his prime. Only later, after Picasso's death, when the rest of the art world had moved on from abstract expressionism did the critical community come to see that Picasso had already discovered neo-expressionism and was, as so often before, ahead of his time.
There was a very helpful flier at the exhibition which briefly describes the characteristics of Picasso's works in his constantly changing and evolving styles as he met new people, artists or came into contact with new ideas or had new experiences. For me, he is the paradigmatic "modernist" painter": incessantly seeking new ways of expressing himself (whether in painting, sculpture, print-making, sketching, stage design, collage and even ceramics), individualistic, daring and unafraid of change, not even of retracing his own steps. As said, he is one of the innovating co-founders of cubism and of the collage.
No photos were allowed except for the posters outside, so I shall have to scan the internet for the paintings that I saw.

A brief note about his life: he was born in Màlaga, Andalucia, southern Spain, in 1881, the first born of his father, a natural landscape artist painting birds and other wild animals and a professor of art at the local Craft School called "La Lllotja" and later the curator of a small local museum and first learned painting at age 10 from his father in figure drawing, copying from the paintings from the masters and also from live models and statues in plaster and showed early talent. I have seen his doodles when he was still a child in the Picasso Museum in Barcelona. He was obviously good from a very young age, something that didn't escape his father's eyes. He therefore sent Picasso to study at the Academy of Fine Arts at Coruna at 13,where he was then teaching and at 16 to the Royal Academy of San Fernando in Madrid, then the foremost art school in Madrid, where Picasso had the chance to look at the original paintings of the great Spanish masters like Murillo, El Greco, Velàsquez, Goya etc. and by 18 or 19, he could already do perfect portraits in the classical style. I suppose that's why he had to strike out for a new personal style of his own in his paintings or he would die of boredom from having to repeat himself and the great masters. In the years 1899-1900, he was exposed to the works of Rosetti, Steinlen, Toulouse-Lautrec, Edvard Munch and this probably helped him to develop a very special ver
sion of "modernism" in his works of this period
. In 1900, he went to Paris and started to mix with all kinds of new ideas with which he experimented and in 1905, he met Matisse through one of the social gatherings of his patron Gertrude Stein and her nephew Leo Stein and Matisse became his lifelong friend. One could see Matisse's influence in some of his paintings. The Steins then introduced him to Claribel Cone and her sister Etta who were American art collectors; they also began to acquire Picasso and Matisse's paintings. Eventually Leo Stein moved to Italy, and Michael and Sarah Stein became patrons of Matisse while Gertrude Stein continued to collect Picasso.And through wise association with Daniel Henry Kahnweiler, one of the foremost art collectors, art dealers and art historians in Germany, Picasso's fame grew by leaps and bounds. Kahnweiler was among the first champions of Pablo Picasso, Georges Braque, André Derain, Kees Van Dongen, Fernand Léger, Juan Gris, Maurice de Vlaminck etc. and it was with Braque that his ideas of Cubism were first jointly developed. Whilst in Paris, Picasso hobnobbed with writers like André Breton, Alfred Jarry and poet Guillaume Apollinaire.

In the early 20th century, Picasso divided his time between Barcelona and Paris.He had many lovers. His first known lover was Fernande Olivier, a Bohemian artist who became his mistress in 1904 and who appears in many of his "Rose period" paintings. Then there came Marcelle Humbert (Eva Gouel) whom he painted in some of his Cubist works but after she died at 30 in 1915 of an illness, Picasso was devastated but he soon recovered. After the WWI, he met Serge Diaghilev and did stage design work for the Ballets Russes and in 1918, he married one of his ballerinas Olga Khokhlova. During this period he also made friends with some radical writers and artists like Jean Cocteau, Jean Hugo, Juan Gris etc. It was Khokhlova who introduced Picasso to high society, formal dinner parties and all the social niceties attendant on the life of the rich in 1920s Paris. She bore him a son, Paulo, who would grow up to be a dissolute motorcycle racer and his chauffeur. During this period, Khokhlova's insistence on social propriety clashed with Picasso's bohemian tendencies and the two had constant fights. During the same period that Picasso collaborated with Diaghilev's troupe , he worked with Igor Stravinsky on Pulcinella in 1920 and traveled with him to Rome where he saw the frescos of the Renaissance artists and for a time, one could see its influence in his paintings. He made several portraits of him. Then in 1927, he met the 17-year-old Marie-Thérèse Walter and began a secret tumultuous affair with her, leading to his separation with Khokhlova but he refused to divorce her because he did not want his wealth halved. So he remained formally married to Olga until she died in 1955. Picasso continued to cohabit with her and had a daughter by Marie-Thérèse, called Maya but never married her. In the meantime, he struck up with a violent
photographer and painter Dora Maar, who became his constant companion and lover in the late 1930s and early 1940s. In all, P
icasso was married twice and had four children by three women.
During the Second World War, Picasso continued to stay in Paris but since the Germans did not like his style, he did not exhibit but continued to paint, producing works such as the Still Life with Guitar (1942) and The Charnel House (1944–48) despite the German ban on bronze casting in Paris, Picasso continued doing so with the help of the French Resistance. And around this time, Picasso started writing . Between 1935 and 1959 he wrote over 300 poems which only got a date and sometimes the location of where it was written . Such works were mostly erotic and at times scatological, as were his two full-length plays Desire Caught by the Tail (1941) and The Four Little Girls (1949). Then after the liberation of Paris in 1944, Picasso, then 63 years old, began a romantic relationship with a young art student 40 years younger than him, called Françoise Gilot when he got tired of his mistress Dora Maar and began to cohabit with her and had two children by her: Claude, in 1947 and Paloma in 1949. He treated her so badly that she left him with the two children. While still involved with Gilot, in 1951 Picasso had a six-week affair with Geneviève Laporte, who was four years younger than Gilot. Eventually, as evident in his work, Picasso began to come to terms with his advancing age and his waning attraction to young women. By his 70s, many paintings, ink drawings and prints have as their theme an old, grotesque dwarf as the doting lover of a beautiful young model. Jacqueline Roque (1927–1986) who was then working at the Madoura Pottery in Vallauris on the French Riviera, where Picasso made and painted ceramics and she soon became his lover, and in 1961 his second wife. There he formed the idea that he wanted to be an artist for the poor workers and so he would pick up random objects in the streets or the fields and would incorporate them into his sculptures. In any case, the two stayed together until Picasso died in April 1973. His marriage to Roque was however, a way taking revenge against Gilot whom he encouraged in the thought that he would marry her after she divorced her then husband, Luc Simon. She wanted to do that to secure the rights of her children as Picasso's legitimate heirs but unbekown to her, Picasso had already secretly married Roque, after Gilot had filed for divorce. This strained his relationship with his younger son Claude and his daughter Paloma.When he finally died, Roque refused to allow them to be present at his funeral. However. before he died, Picasso had amassed a huge fortune, had built a huge Gothic home and bought large villas in the south of France, such as Mas Notre-Dame-de-Vie on the outskirts of Mougins and in the Provence-Alpes-Côte d'Azur. In addition to painting and set designing for ballets, Picasso made a few film appearances, always as himself, including a cameo in Jean Cocteau's Testament of Orpheus and in 1955 he helped
Henri-Georges Clouzot
to make the film Le Mystère Picasso (The Mystery of Picasso) about himself. He died in April 1973 in Mougins, France, while he and his wife Roque were entertaining friends.His final words were "Drink to me, drink to my health, you know I can't drink any more.". He was buried at Chateau of Vauvenargues near Aix-en-Provence, a property he had bought n 1958 and occupied with Jacqueline Rogue between 1959 and 1962 but after his death, Jacqueline Roque was devastated and eventually committed suicide in 1986 at age 59.
Aside from the several anti-war paintings that he created, Picasso remained personally neutral during World War I, the Spanish Civil War, and World War II, refusing to join the armed forces for any side or country. When the Spanish Civil War broke out in 1937, Picasso was already in his late fifties and despite his sympathies with the Republican, he never took part in their movement but he was under no compulsion to fight against the invading Germans in either World War as an expatriate Spaniard. While Picasso expressed anger and condemnation of Franco and the fascists through his art, he did not take up arms against them. He also remained aloof from the Catalan independence movement during his youth despite expressing general support and being friendly with the activists within it. But he did join the French Communist Party in 1944 and attended an international peace conference in Poland and in 1950 received the Stalin Peace Prize from the Soviet government. After certain Communist criticism of his portrait of Stalin as not realistic enough, his interest in Soviet politics waned, though he remained a loyal member of the Communist Party until his death. In a 1945 interview with Jerome Seckler, Picasso stated: "I am a Communist and my painting is Communist painting. ... But if I were a shoemaker, Royalist or Communist or anything else, I would not necessarily hammer my shoes in a special way to show my politics." His Communist militancy, common among continental intellectuals and artists at the time although it was officially banned in Francoist Spain, has long been the subject of some controversy; a notable source or demonstration thereof was a quote commonly attributed to Salvador Dalí, with whom Picasso had a rather strained relationship:
"Picasso is a painter, so am I; ... Picasso is a Spaniard, so am I; Picasso is a communist, neither am I."
In 1962, he received the Lenin Peace Prize. He was against the intervention of the United Nations and the United States in the Korean War and he depicted it in "Massacre in Korea". To him, "Art is a lie that makes us realize the truth. "
Arguably Picasso's most famous work is his depiction of the German bombing of Guernica during the Spanish Civil War—"Guernica". This large canvas embodies for many the inhumanity, brutality and hopelessness of war. Asked to explain its symbolism, Picasso said, "It isn't up to the painter to define the symbols. Otherwise it would be better if he wrote them out in so many words! The public who look at the picture must interpret the symbols as they understand them."Guernica" hung in New York's Museum of Modern Art for many years until 1981, when it was returned to Spain and exhibited at the Casón del Buen Retiro. In 1992 the painting hung in Madrid's Reina Sofía Museum when it opened. The Museo Picasso in Barcelona housed many of his early works while he was living in Spain, including many rarely seen works which reveal his firm grounding in classical techniques. It also holds many precise and detailed figure studies done in his youth under his father's tutelage, as well as the extensive collection of Jaime Sabartés, his close friend and personal secretary.
Without the shadow of a doubt, Picasso was a most prolific painter and sculptor his entire life, by any standards. According to the Wikipedia, the total number of artworks he produced has been estimated at 50,000, including 1,885 paintings; 1,228 sculptures; 2,880 ceramics, roughly 12,000 drawings, thousands of prints, and numerous tapestries and rugs. He still got many paintings which he kept off the art market including important collections the works of other famous artists like those of Matisse with whom he had exchanged works. Since Picasso left no will, his death duties (estate tax) to the French state were paid in the form of his works and others from his collection and it's such works which form the core of the immense and representative collection of the Muséee Picasso in Paris. In 2003, his relatives started another Picasso museum in his birthplace, Málaga, Spain, the Museo Picasso Màlaga. The Museo Picasso in Barcelona contains many of his early works in Spain including many rarely seen works which reveal his firm grounding in classical techniques. The museum also holds many precise and detailed figure studies done in his youth under his father's tutelage, as well as the extensive collection of Jaime Sabartés, his close friend and personal secretary. Several paintings by Picasso rank among the most expensive paintings in the world. Garçon à la pipe sold for US$104 million at Sotheby's on 4 May 2004, establishing a new price record. Dora Maar au Chat sold for US$95.2 million at Sotheby's on 3 May 2006. On 4 May 2010, Nude, Green Leaves and Bust was sold at Christie's for $106.5 million. The 1932 work, which depicts Picasso's mistress Marie-Thérèse Walter reclining and as a bust, was in the personal collection of Los Angeles philanthropist Frances Lasker Brody, who died in November 2009. Christie's won the rights to auction the collection against London-based Sotheby's. The collection as a whole was valued at over $150 million, while the work was originally expected to earn $80 million at auction.[There were more than half a dozen bidders, while the winning bid was taken via telephone.[The previous auction record ($104.3 million) was set in February 2010, by Alberto Giacometti's Walking Man I].
This is a global view of the posters of various of his paintings outside the museum
.
This centre fold is the painting of one of his last lovers, Dora Maar 1937 a photographer who is extremely violent. It was said Picasso met her on one occasion, she was stabbing at her hand with a knife between her fingers and that was the reason that whenever Picasso painted her, he would use very bright and sharp colors to convey the kind of mood she conveyed to him.
The portrait of Maar is in contrast to his painting of another of his lovers Marie-Thérese Gilot of whom he is reported to have said:
"I love you more than the taste of your mouth, more than your look, more than your hands, more than your whole body, more and more and more and more."

The painting to the right is "Portrait of a man" 1902-3. Here we already find a fixed stare, and simplification of lines in the painting on the wall and the unification of color to convey the mood of his painting, a technique he was later to use again and again.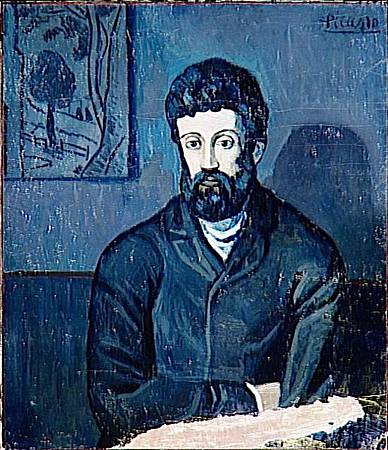 This is the painting. It belongs to the so-called "Blue period.



This is "L'homme a la casquette" (Man with a cap) 1895, one of his earliest paintings in the realistic classical style.
In this period, he was still much influenced by the paintings of the great Spanish masters Murillo, Vélasquez and Goya.
The First Communion 1895-96, painted when he was 14, already shows how good his "realistic" painting skills were.
This is his Barefoot Girl, 1905 painted when he was 24, the use of light and the simplification of strokes is already evident. But we still see his links with the Spanish masters.
This is his "Femme nue de trois quarts dos" (Naked Woman three-quarter back) 1907. Here we find the further simplification of lines and the bold outlines in his so-called "
Africa-influenced period".
This is his "Nu couché" 1908. The simplification of lines, the strong colors and heavy outlines are even more evident. The figure has no more face.

"Nu Debout" (Standing Nude)
1908.
Again, the contrast of color is even more accentuated, the two sides with different background colors and the face even less featureless.
This "tête d'homme" 1908 is of the same period. He still got features
This second version of the same head 1908 is quite different already: all features gone and his eye is no longer in the usual place: everything is reduced to "geometric form", per Cezanne.

This "tête d'homme" 1909, done a year later has advanced even further from "realism", his face consisting of all lines, colors and form, developing even more in the abstract analystical "cubism" direction.
This "Homme a la moustache" (Man with a moustache) 1914 is now definitely in the abstract "synthetic cubism" style with a collage of a piece of table cloth or wall paper pasted on to the painting at the lower part and other fragments painted over at the edges, with the man's features no longer recognizable, with different patches of fragments of paintings or patterns superimposed over each other.

"Le retour de baptême, d'après le Nain" ( The return from the christening, after Le Nain" )1917, is a conscious attempt to imitate the "pointillist" technique of the impressionists


"Tête de femme" 1921 which has several versions is another return to former traditions in the so-called "classical period"


"La lecture de la lettre" (Reading the letter) 1921 is thought to be a reference to his relations with the poet Apollinaire who had died shortly before the painting. It was only discovered after Picasso's death. It belongs obviously to the "classical period."
"Paul dessinant" 1923, also belongs to the same period. Paul is one of Picasso's sons. He later became a motorcyclist. Simple lines, simple colors and sharp outlines.


"Mandoline sur une table" (Mandolin on a table) 1924,. Picasso was trying something new, etching on the paint of the painting.


"Paul en Pierrot" 1925, Paul two years later, now playing the fool! Some say that it was supposed to be a "parody" of Renoir!
"Femme a la collerette" (Woman with a collar) 1926, Picasso bouncing back to his abstract painting, but less cubist, with more curved lines.


"Femme dans un fauteuil" 1927. Picasso in a happy state? Influence of Miro?

"Nu sur fond blanc" (nude on white background) 1927, a peaceful and happy painting! Lines now simplified into sketches, free and unrestrained, but with unity of color.
Figure et profil (Figure and profile) 1928. More influence by Matisse, in the use of his colors and the Mediterranean sun. Colors and lines have become more airy ?

La femme au stylet (The woman with a stylet) (Mort de Marat) (Death of Marat) 1931. Marat, a the French nobleman who turned revolutionary at the French Revolution of 1789 was assassinated by a woman while he was taking a bath. Was Picasso thinking of his death at the hands of one of his lovers?
"Le sculpteur" (The sculptor) 1931. Another happy painting with almost cartoon like colors and lines full of joy.

Nature morte: Buste, coupe et palette (Still Life: Bust, Bowl and Palette) 1932. Someone serving fruit? Full of fun and peace.
"Femme assise dans un fauteuil rouge" (Woman seated on a red armchair) 1932. All curve lines now, no more straight lines. Picasso under the influence of Matisse?
Minautore au javelot (Minautor with javelin) 1934. Picasso going back to the Greek myths. This is done on plywood. Is he afraid of losing his manhood? He made many paintings with this half beast and half man. Autobiographical?
Dormeuse aux persiennes (Sleeping Woman with Shutters) 1936. Simple colors, simple lines , sharp outlines with contrasting colors but still peaceful or crying?.
Tête d'homme barbu (Head of a bearded man )1938. Premonition of another war and the return of barbarism and confusion?
Café à Royan (Café at Royan) 1940, happy times at little seaside town away from the war?
Jeune Garçon à la langouste (Boy with a crayfish) 1941. Everything looks grey. The War?
L'enfant aux colombes (The child with doves) 1943. Child sitting on a corner in the dark. Longing for peace and sunshine?
Jeux de pages (Pages at play) 1951. Back to medieval tradition, with its "heros", its pomp, its priests, it myths?
Enfant jouant avec un camion (Child playing with a truck) 1953. Japanese influence?
Claude dessinant, Françoise et Paloma. 1954. Family Fun time?
"
Le Dejeuner sur l'herbe d'àprès Manet" # 6, 1960. One of the redoing of Manet's "Dejeuner sur l'herbe". Retracing his roots? Or making fun of Manet?
This is the original of Manet's painting which Picasso re-did.
A second version of the same
A third version of the same.
A fourth version of the same.
A fifth version of the same by Picasso
"Veil homme assis" (Seated Old man) 1970. Still vital in his old age? Painted with vibrant colors. Life in him yet!
Jeune Fille Assise
( Seated Girl)
1970
. Young girl full of life and curiosity?
La Famille (The Family) 1970. A new family?


I conclude with what Picasso is reported to have said about his own works, from the mouth of one of his many lovers Françoise Gilot in 1946 in her book "Life with Picasso": "I paint the way some people write their autobiography. The paintings, finished or not, are the pages of my diary, and as such they are valid. The future will choose the pages it prefers. It's not for me to make the choice. I have the impression that time is speeding on past me more and more rapidly. I am like a river that rolls on, dragging with it trees that grow too close to its banks or dead claves one might have thrown into it or any kind of microbes that develop in it. I carry all that along with me and go on. It is the movement from one effort to the next, even if those efforts are perhaps not pushed top their ultimate end. In some of my painting canvases I can say with certainty that the effort has been brought to its full weight and its conclusion. because there I have been able to stop the flow of life around me. I have less and less time and yet I have more and more to say, and what I have to say is, increasingly, something about the movement of my thought. I've reached the moment, you see, when the movement of my thought interests me more than the thought itself.", quoted by Anne Baldassari in the the article "Picasso in Situ" in the book published together with the exhibition "Picasso, Masterpieces from Musée National Paris". Picasso discovered and knew himself through his own paintings, as no one else could. If we would understand him, we should go see his paintings before it is too late.